My name is James Bartlett, I'm 17 years old, 13 years post double organ transplant and this is my story.
I was born on 21st August 2001, perceived to be a healthy and well boy, however this was not to be the case. In March of 2004, my intestines died and I was taken to Alder Hey Hospital where I spent 4 weeks in the intensive care unit and then was put on another specialist ward for 2 months. Due to my intestines having have died, I was unable to digest any food or absorb fluids meaning I had to be put on a drip which sent TPN (a special feed) straight to my heart. This left me unable to drink or eat orally. This presented my parents with many tasks such as having to undergo intensive training in order to administer my feed, which was a complex procedure that required sterile preparation. This training meant that I was able to go home which was a lot better, however meanwhile me being in intensive care, my little sister Lauren had been born in the April which meant that my parents were very busy attending to us both, each with our very different needs.
A side effect of the TPN feed I was taking is that it slowly poisons the liver and due to me having been taking it for so long meant that in August of 2004, I was diagnosed with liver disease and was taken to Birmingham Children's Hospital for a transplant assessment, following this I was put on the list in September for a double organ Liver and Small bowel transplant. At the time, this particular procedure was very rare and BCH had undertaken less than 30 at this time and it only had roughly a 50% survival rate at 3 years. Naturally my parents were very anxious about this however it was the only way in which I could still be here today.
Over the next few weeks, my Liver had deteriorated so much that by December I was requiring twice weekly blood transfusions in order to stay alive. These transfusions didn't seem to be keeping my red cell count high enough anymore.
On the 11th January 2005 at 1am my parents got a call from the transplant team in Birmingham to say that a Liver and small bowel which was suitable had become available. This was the most amazing news my parents had heard for months and yet were sorrowful at the same time as they knew that somewhere, a family had lost their 3 year old child. My parents had been waiting for this moment for what seemed like years and so had packed their bags months ago.
We arrived at Birmingham Children's Hospital at around 3:30am and I had my pre-op checks at around 5am. The next morning was the time for the big procedure that we had been waiting for months since August of 2004 when I was first diagnosed with liver disease and was given 3-6 months to live. The operation was to take around 12-17 hours.
At 4pm, the transplant surgeon called saying that his work was complete and had gone well.
At 5pm my parents were told that I was out of theatre and was going to intensive care and at 6pm were told that the operation had gone very well and that my other main organs were performing and hadn't lost too much blood during the procedure (although I still required 6 pints of new blood).
At 8pm my parents were finally able to see me.
Now that I was in intensive care, this was the part that my parents had been dreading the most – seeing me with loads of tubes, wires and pumps.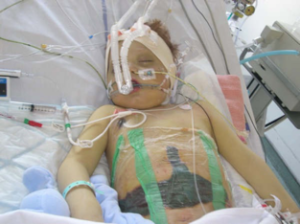 My parents were more aware of what to expect, however due to the swelling of my new bowel the surgeons were unable to stitch up my abdomen as of yet and so they weren't anticipating to see me in such a way.
I was to be kept sedated and paralysed so that once the bowel had reduced in size I was able to go back to theatre where my abdomen could be stitched up.
The mortality rate of this procedure was very high and my parents were constantly being reminded that the next few days were extremely critical and found it very hard to leave my side to rest. To get over this, they took shifts, one looking after my little sister Lauren who was unsettled due to being taken out of her home and spending nights in different places, and the other sat with me.
Some problems were encountered such as my heart rate plunging dangerously low whenever my tube was aspirated. However, the pain team were at hand with a strategy to prevent the problems that had been encountered when I was weaned off morphine the previous year.
My bowel movement started to increase which for my parents was very exciting however on the Thursday evening, I was taken back to theatre where my abdomen was finally stitched up and my stoma was formed. At the time my parents were told I would keep my stoma for around 18 months which would be used to take twice weekly stoma biopsies as it is the only way to identify bowel rejection, however in reality I kept my stoma for around 4 years.
As I was now all stitched up, the medics were able to start to reduce my paralysis and the next day my ventilator was removed as now I was doing all my own breathing. I was then taken down to the High Dependency Unit.
For the next few days, neither my parents or me slept whilst I had antibiotics and immunosuppressant drugs injected through my nasal tubes.
Since then I had problems such as my liver function tests going the wrong way a week later, indicating possible rejection. This meant more trips to theatre, more ultrasound scans and biopsies.
At this point in time, I was still on TPN and overall had 8 pumps running simultaneously which nurses had to change over hourly.
Now I had play specialists and physio's helping me to regain my balance to walk again and helping me to stay entertained. On Monday the 24th I started to stand by myself which became dancing and I started to eat again. This enormously helped to increase the hopes of my parents.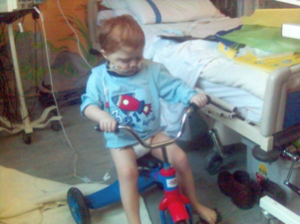 I was finally discharged so I could go home in protective isolation on Thursday 10th February.
The daily routine at home took a lot of getting used to including tasks such as preparing medicines four times a day.
Since then I made great progress, I started school which was hard given all the medications and responsibility involved as to not catch infections. This meant I had to grow up quickly. Despite all my setbacks I managed to keep up with the rest of my class and make lots of new friends. However it was still hard work for my mum as she was travelling back and forth from school to empty my ostomy bag and give me medicines. This became much easier once we had got funding to have a classroom assistant.
Since this, I have now completed high school and am going into my second year of Sixth form in which I am studying maths, biology and business and I am hoping to study civil engineering at university. I have also been fit and well to compete in the British Transplant Games every summer since 2010 where I have won numerous medals in sports including table tennis, 100m, 200m and long jump. I was then fortunate enough to be able to be a part of the British Team at the World Transplant Games last summer in Malaga where I won gold in the 200m, silver in the 100m and bronze in long jump. I now love sport and am part of an athletics club which I train at twice a week as often as I can.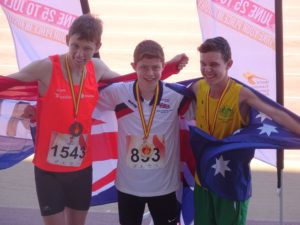 I have also attended a week long ski and snowboard camp that is strictly for transplant patients globally, for 3 years. All these events that I've managed to be a part of have meant that I have made friends with transplant patients all with different, inspirational transplant stories many of which I now consider as the best friends that I have and are a part of my family which I have a special place in my heart for.
For me, now being able to reflect on my past years and all the experiences I've managed to have due to having my transplant, the fact that I've had a transplant doesn't just mean that I have to spend time in hospital having check-ups and not being as physically well as some of my peers, that is only a small aspect of it all. My transplant has meant that I have been able to make the best friends I could possibly have, I can join in with sport, travel to new places I wouldn't; have been able to experience and most importantly live my life to the fullest. For this reason I am eternally grateful to my donor and their family and I think about them every day. Unfortunately, I am unable to compare life before and after transplant as I was too young to remember however I know that this life I have now would not be possible without my life saviour.
I urge anybody that is reading this to consider signing up to the organ donor register because even though it may not feel like it at the time, it is one of the most heroic acts a person can carry out, and I can vouch that's also the thoughts of my transplant friends and transplant patients worldwide.
Thank you for taking the time to read this x