Chronic illness, and the world of organ donation, can take you to extraordinary and unexpected places, like this story from Megan McGillin…
When life presents us with challenges, some individuals find the strength within themselves to rise above their circumstances, not only to survive but to thrive. My name is Megan, and I've embarked on a lifelong journey with liver disease that has shaped me in profound ways. This is the story of my resilience, my advocacy for organ donation, and the incredible friendship that inspired me to "Live Loudly."
At the tender age of 10, I received a diagnosis that would alter the course of my life – cirrhosis of the liver. It was a daunting revelation for a child, but it was only the beginning of my medical journey. As time passed, I learned that I also had portal hypertension, a condition that further complicated my health. The prognosis from my medical team was sobering, suggesting that I would need a liver transplant by the age of 18, if not definitely by 21.
But here I stand, well beyond those milestones, without having undergone a transplant. My journey has been marked by determination, a commitment to a healthy lifestyle, and a strong belief in the power of advocacy and organ donation. I've embraced habits like regular exercise and avoiding certain foods, including alcohol, to protect my liver and prolong its function.
One crucial element of my journey has been my passion for advocating organ donation. This cause took on a profound significance when my dear friend, one you may already know, Lucia Quinney Mee, faced the daunting challenge of needing not one, but four liver transplants. Without the generosity of donors, Lucia's story would've unfolded differently. Inspired by her incredible strength and resilience, Lucia initiated a campaign that would change lives – "Live Loudly, Donate Proudly."
Lucia's campaign was a resounding success, raising awareness about organ donation and emphasizing the importance of discussing this critical topic with loved ones. It resonated deeply with me, and I was determined to keep Lucia's message alive and thriving.
As I ventured off to university to pursue a degree in Medicine, I decided to use my creativity and passion to further the cause. I designed and created lanyards adorned with Lucia's slogan, "Live Loudly, Donate Proudly," and the simple phrase, "Let's talk about it." These lanyards have become a symbol of hope, a reminder of the importance of organ donation, and a conversation starter.
My journey with liver disease has taught me resilience, compassion, and the importance of advocacy. It has shown me that life's challenges can be transformed into opportunities to make a difference. My commitment to organ donation is not just a personal choice; it's a mission to inspire others to become donors, to save lives, and to ensure that stories like Lucia's resonate with others.
In early 2023, I participated as Miss East Belfast in the 2023 Miss Northern Ireland competition. Right from the start, I had a clear objective: to use this platform to raise awareness about organ donation in Northern Ireland and encourage people to have conversations with their loved ones about their organ donation preferences. Throughout the competition, I engaged with sponsors, hosts, and our local legend Dáithí Mac Gabhann. I shared my message through lanyards and had numerous discussions about promoting organ donation while also sharing our personal experiences with it. Although I didn't win the overall contest, I did win the 'Beauty with a Purpose' category. This victory propelled me to continue advocating for organ donation, both at home with my friends and family and on various social media platforms. I even had the opportunity to speak about this cause on a national level during an interview with BBC NI. My dedication to raising awareness about organ donation was recognized when I received the Local Women's Young Inspirational Woman of the Year award in August. The Miss Northern Ireland competition brought my message into the spotlight and opened up incredible opportunities and accolades for me.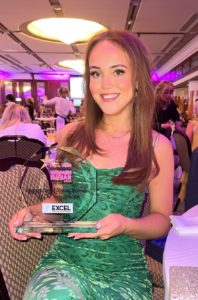 Throughout this journey, my mission has remained steadfast, honouring the memory of Lucia, and keeping her voice alive. Lucia though no longer with us, was an unwavering pillar of support during my illness, and her memory continues to inspire and comfort me.
So, let's talk about it. Let's continue the conversation about organ donation, raise awareness, and honour those who have faced the unimaginable with courage and grace. Together, we can "Live Loudly, Donate Proudly" and make a lasting impact on the lives of countless individuals awaiting the gift of life.
Megan