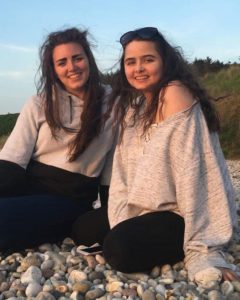 Alice and Lucia
This day last year we shared a most private and intimate space. The four of us. Two sisters who had laughed, played, chatted and danced their way through almost, almost, twenty-one years of closeness together. Their Mummy and Daddy, privileged to be their hosts and proud of them both beyond compare. And the company of a caring nurse whose threading of kindness through our months in LITU made her a friend, much loved by Lucia.
One year on from Lucia's death in King's College Hospital, London, back by the beach Lucia loved so much, this day will again be quiet, intimate. Large gatherings are still pandemic prohibited, and we wouldn't attempt such a thing until Lucia's Transplant Games family can travel and gather in safety and confidence.
So, the day is for small things. Moments and symbols. Seeds. Planting, perhaps. Plant a thought. Plant a conversation.  It's what Lucia was doing when she set up Live Loudly Donate Proudly. Planting seeds.
And there is plenty of fruit already. Some rich and ripe and harvested. One man was excited enough to let Lucia know that, thanks to her planting, he had become a bone marrow donor and saved the life of a girl he didn't know. Others who have had the conversations at their kitchen table have, in the face of sudden family tragedy, graciously upheld decisions made and from their own pain given life and hope to another, to others, through the miracles of transplantation.
Plant a conversation, plant a life.
Many have signed the organ donor register and, more importantly, talked about their decision with family. Some have been encouraged to add their voices, often in creative ways, to encourage conversations to start in other places.
Live Loudly Donate Proudly has become a voice amongst many others online, on Facebook, Twitter and Instagram. It has been on the pages of the newspapers, on the radio and the television, local and national.
Lucia, often to her astonishment and always with eyes wide in joy and delight, has been called forward as winner of awards for sport, for campaigning, and the youngest name on that New Year's Honours list in 2018.
All through planting conversations. A few words, a speech, an article, a blog, an interview, the joy-filled gift of turning intense personal struggle into a resource, a lifeline for others.
In 2018, Lucia was invited by the BBC to be recorded for Radio 4's Listening Project. Invited to create a conversation with a friend on living with organ transplant. Lucia invited Erica Ferguson, Northern Ireland Transplant Association, to talk with her. The two of them chatted for an hour or more. A beautiful conversation filled with wonder, joy, amazement at their good fortune, their survival, and the sense of responsibility that grew with them. Everyday gratitude to donors and profound love for life, for the feeling of rain on skin, wind in hair, breath in lungs. The chance to dance.
A few minutes clip was broadcast as the Listening Project for 10 Aug 2018. The full conversation is archived in the British Library and copyrighted to the BBC. On this day when we would most like to hear Lucia's voice bouncing around us again, we offer you this link to her conversation with Erica. Listening Project: Lucia and Erica  Listen to it, all in one go, or in instalments, on your own, through headphones as you walk on a beach or with family and friends as you sit with a candle, or a cake… However you listen, may it be another gift from Lucia to you. A bit more of her commitment to Live Loudly Donate Proudly, an inspiration to plant another conversation, an invitation to life and the opportunity to bring this precious gift of life to someone else.
(And thank you, Lucia. Because we know you as we do, we will never be surprised to find your light and energy beside us, and on the road ahead…)