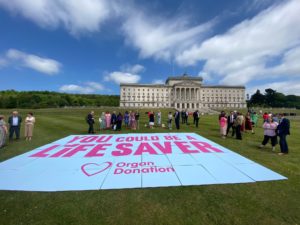 Stormont lawn,1st June 2023
Northern Ireland has a new law.   It went live yesterday, 1st June 2023.  Despite the title of this blog (see later) it's a very real law.  Too much has gone into bringing it into being for it to be anything less.  Years of hard work, lobbying, campaigning, raising awareness, educating, persuading, hoping and, somewhere in there, praying.  And, in the last few years, a young man in the centre of it all, his smiling, determined face in countless photos and videos as politicians, ice hockey Giants, boxers and many others join the queue to stand beside him.  His name is on the new law that brings Northern Ireland into line with organ donation legislation elsewhere in the UK.  Dáithí's Law.
Dáithí Mac Gabhann was born in October 2016 with Hypoplastic Left Heart Syndrome. It means that Dáithí was born with half a working heart, the left side not fully developing before his birth.  His future will depend on the possibility of a successful heart transplant from a suitable donor, and the generosity of a family that may be able to offer hope to another from the midst of their own hardest times.   Dáithí has been waiting for such a bitter-sweet gift for five years…
Yesterday in Stormont, the N. Ireland Assembly building, representatives from organ donation awareness charities and campaigners came together with teams from the Department of Health, NHS Blood and Transplant organisation, and the Public Health Agency to announce and celebrate the hard-won achievement of Dáithí's Law.
There were speeches, short and engaging, introducing us to many of the hidden players in the long game that has finally landed this law over the line.  Thanks all round, expressed in words and applause and felt at real depth around the room.
Then Dáithí's dad, Máirtín.  He spoke with the straightforward authority of love and gratitude.  Gratitude to the campaigners and public servants, many present in the room.  To community friends and family, to the best and most faithful in the media, and to others who have given immensely over the years and are no longer physically present with us.  As Máirtín expressed his deepest thanks to Seth, his wife and campaign partner, and then to his son, Dáithí, he managed his tears better than more than a few others in the room.
A very proud father, Máirtín said, who has learned and is learning, so much from his young son.  Grateful to him and inspired by him to go through the years of campaigning at high cost to each of them, planting and nurturing hope not only for Dáithí but for many, many more waiting on the transplant lists.  Words done, Máirtín lifted Dáithí into his arms.  There were tears then, and a standing ovation, and Dáithí's law is live.
So.  The new law.  Simply this: its intent is to increase the current number of organs available to those in need of a transplant.  Instead of having to actually sign the register, or tick the box on the driver's licence application ("I always meant to get round to it, just haven't done it yet…"), the new opt-out system means that all adults in NI, unless in an excluded group, will be considered to be organ donors after death unless they chose to opt-out.
When is a law not a law?  Well, technicalities, legalities and philosophy aside, the new law will not mean anyone is obliged by the medical profession, or the government, or any other power-that-may-be to become a donor against their will.  Everyone will still have a choice – people are free to opt-in, opt-out or amend their decision at any time.  You can do it today.  Or tomorrow.  (Today's better…)
And whatever your decision, whether you are happy to be on the list as a presumed donor or just never got round to opting out, your family will still be consulted (they always have been, so don't presume that just because you ticked a box some time ago the job's done.  Your family will still have the word.)
Imagine you are in that tiny percentage (1%) who dies under the right circumstances to be considered a possible donor.  When your death is confirmed, and only then, your family may be approached by highly trained staff to consider the possibilities of organ donation.
If your family know your thoughts and wishes about the possibility of donation you may have given them a gift that will help them in those difficult moments and, as donor families often say in the most moving ways, well beyond.
And that's it.  It's a new law, but it's still up to you.  And your family.  So think about it, talk about it.  Make it part of a conversation with your family or with others close to you so everyone is certain of each other's decision.  Don't keep it to yourself.  And if you, or your family, are donors, or prepared to be donors, then say so.  Be proud.  Be very proud.  Live Loudly, Donate Proudly…
To find out more, visit Organ Donation NI  #YouCouldBeALifesaver