A Night of Celebration and Promoting Organ Donation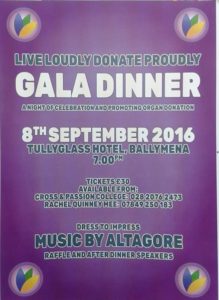 Who: Live Loudly Donate Proudly will be hosting this event for anybody who wants to come along, just get your ticket and come join in the fun!
What: This is a Gala Dinner, there will be food, music by Altagore, speeches and a raffle. It will be a wonderful night!
When: Thursday 8th September 2016 at 7pm
Where: At the Tullyglass House Hotel in Ballymena.
Why: We are holding this event in order to promote and celebrate the amazing gift of organ donation. The primary purpose of the event is not to fundraise, but any money that is raised, will be split between the Transplant Sport charity and the Northern Ireland Transplant Association. These are both hugely important charities for recipients and donor families, and it means a lot to have that kind of support, so we wanted to do anything we can to help them give it.
Tickets? Tickets can be obtained as follows:
Online using a debit or credit card via PayPal using the button below (on the PayPal site select the option that says Pay With a Debit or Credit Card).
By contacting us directly on Facebook or via email on info@live-loudly-donate-proudly.org.
From Cross and Passion College on 028 2076 2473.
From Rachel Quinney Mee on 078 4925 0183.