On the twelfth day of Christmas my true love gave to me…Twelve Drummers drumming.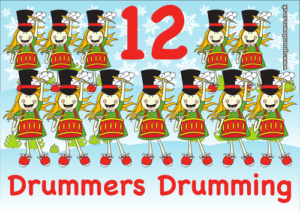 So that's it. Twelve days of Christmas, twelve blogs. Twelve drummers to drum up conversation about organ donation.
Many people who have had transplants, or have supported their loved ones through the transplant process, or who are waiting, waiting, waiting for a transplant to happen, go to much more extraordinary lengths than blogs to drum up support and awareness.
Like the Great North Run, the largest half-marathon in the world. Two good friends of ours, Millie and her mum, Alison, completed the Run a few months ago (story link), celebrating the twentieth anniversary of Millie's liver transplant and raising funds for Children's Liver Disease Foundation.
We know Millie recovered well because in November we watched her on the BBC as she pedalled thirty miles as part of the Rickshaw Challenge for Children in Need (story link). "It was incredible to be a part of this challenge," Millie said, "and have the platform to get the word out there about liver disease and organ donation. To know that we are helping so many other people and projects across the UK is amazing."
Lots more transplant recipients and their families have cycled, walked, swum, abseiled, climbed, even jumped out of aeroplanes with parachutes that don't open until a long way down to raise funds and, most important, to get those conversations started.
Another friend of ours, so moved by his daughter's experience with a lifesaving transplant, shaved his head and had it tattooed to raise extra support for the Children's Hospital.
One little boy, Dáithí, and his parents, lobbied every politician they could find to promote awareness of organ donation, and then enlisted the support of giants for their campaign – the Belfast Giants, the first professional ice hockey team on the island of Ireland.
Dáithí is five years of age and on the waiting list for a heart transplant. His dad, Máirtín, says, "Talking about organ donation doesn't have to be this very depressing, serious conversation; it could and should be more like, 'in the event that anything was to happen to me, I would love to give the gift of life' – that simple conversation could spark someone taking the steps to join the organ donation register."
And the Transplant Games, of course. One, huge, organised way to bring together a few thousand people in a mosaic of fun, courage, and gratitude, building a picture of lives made new through transplants. Like a whole steel drum band of awareness raising.
If you've read, liked, shared, or supported these twelve days of blogs in any way, thank you. If they are useful in sparking those conversations, even better. If you're already banging the drum for organ donation, brilliant, thank you even more, and all strength to you. If you haven't yet, then start tapping, follow the beat of your heart, and see where it leads… And may the year be extra kind to you.