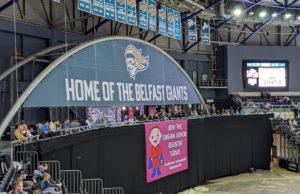 Last night's blog was posted a little earlier than usual.  Not because of Strictly Come Dancing (we could watch that on "catch-up") but because we donned warm hoodies (organ donation-branded, of course) and went off to watch a game of professional ice hockey.
Not our usual habitat, and we spent some time preparing – how does it work, what's the rules, how long does it last, how many players, how can you keep track of something so fast..?
Tickets had been organised for representatives of Northern Ireland's organ donation groups by the Belfast Giants and Donate4Dáithí , the campaign run by the family of 5-year old Dáithí Mac Gabhann.  Dáithí, after four years waiting for a heart transplant, is already a campaigner. He commandeered the moment on the big screens in the intermission's live interview with his Dad and made his point loud and clear  – "Organ donation saves lives!" The information stand in the central place on the Bridge was busy with people coming to learn more about transplants, meet Dáithí and Máirtín, and leave inspired to sign the register and talk with others.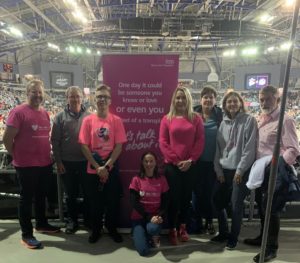 Oh, yes, there was also a great game of ice hockey that we did, more or less, manage to follow, and after all the razzmatazz, the home supporters left the scene happy with  a 5-0 win.
A huge (alright then, a Giant) campaign boost for Organ Donation Week in this part of the world.  Big team, (some of them very big), big advertising, loud noise, strong message – all that energy and effort channelled into the tiny little bottleneck of a short conversation between a few family members.
But if that works, it can burst out of the bottle on the other side and may spark a new chance of life for one, two, up to nine people.  Nine new lives.  All their worlds open again, for them, their family, friends.  All they can enjoy, say, do, achieve.  All they can sing, dance, spin, laugh, create.  All they can give, share, inspire.  All they can love, and be loved.  All that, and much, much more.  All from opening a conversation about organ donation.
It's worth everything Organ Donation Week can give to it.  Can you give it a few more minutes, too?  If you've already sorted it all with your family, and know what you might each do if it ever came your way, thank you for that.  Really, thank you.  But don't stop now.    Start a conversation with someone else.  Spread it.  Pass it on.  Live Loudly.  Donate Proudly…