My story started shortly after I was born, September 1998 my mum had noticed my stomach was swollen and didn't disappear. For many weeks we were turned away from our GP with antibiotics time after time, until finally enough was enough mum decided to take me to A&E in the hope of getting some answers.
They decided to do an ultrasound scan to see if they could find the cause for the swelling. Mum waited nervously for the results as would any parent, but she had no idea what she was about to be told.
"I'm sorry Mrs John its not good news, I'm afraid your daughter is in need of urgent medical care so much so we're not qualified enough to give her this."
Within the hour I was air lifted to Birmingham Children's Hospital and immediately taken to Intensive Care.
The Drs were yet to agree on a diagnosis. Hours went by with test after test. After an extremely long night when the Dr's came for their rounds and for the first time gave us some answers.
'After many tests and examinations we have discovered your daughter has Autosomal Recessive Polycystic Kidney Disease, Congenital hepatic fibrosis and Proxysismore dystonia.' Meaning that both my kidney and liver were failing.
With 24% kidney function and 41% liver function they were happy to see if medication was the option. It seemed to work and the test results levelled themselves out. But we were warned that it wouldn't last forever and one day I would need a kidney and liver transplant in the future.
Years went by and I lived my life the same as everyone else. However march 2011 I was admitted to hospital to undergo dental surgery to remove a tooth and reline another. When the routine blood tests they do before any surgery came back, no one was expecting what we were presented with.
Despite never having more than 30% kidney function and 50% liver I now only had 11% kidney function and 22% liver function. At that point the Drs decided it was time to begin the road for transplantation.
In the May I was admitted for transplant assessment to ensure I was well enough to receive a transplant. Later that month I went live onto the multi organ transplant list. We were told the waiting time could be anything from days to years and there would be no way of knowing when the call would come.
The waiting game began.
In the July I was given 6 months to live if I didn't receive a transplant.
Throughout the next few months although I tried my best to enjoy every day, the tiredness and pain would often get the better of me. December came and I still hadn't received my transplant, time was quickly disappearing.
Luckily with just days left I received my call on the 16th December 2011. We travelled to Birmingham. Everything was very quick after that I went down to theatre the next morning. (17th)
I spent 9 days in intensive care, 7 of those on life support. Defying all the odds after receiving a multiple organ transplant I was discharged 1 day short of 3 weeks after the call. The recovery took a long time with new struggles each day to overcome but step by step I got there.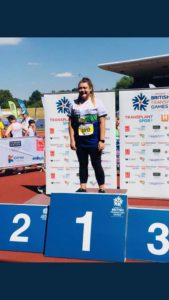 Since I had my transplant life's been amazing and I'm living every second of it to the best of my ability. There have been a few hospital admissions, infections and 2 bouts of rejection. One being quite recently but with things returning to normal and beginning to become stable again I can see the light at the end of the tunnel.
I am forever grateful to both my donor and my donor family for making a selfless decision in which I was able to live.
My donor really is my hero.