Birmingham Children's Hospital is celebrating its 160th anniversary this year.
On Monday this week (21st November), a 7m x 8m mosaic of the hospital building, as it was in the early 1900s, was unveiled in Birmingham New Street Station.  The mosaic, on the floor of the station's main concourse, is made up of over 850 images of the faces of past and present patients and staff.  And Lucia is smiling in there too…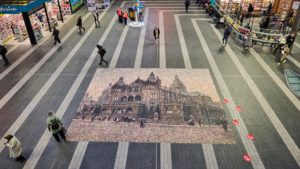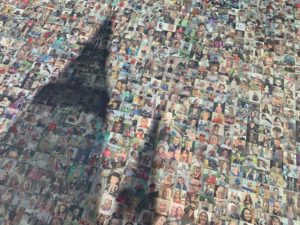 The city's modern hospital treats over 90,000 sick children each year, from across the UK, giving them and their families some of the most outstanding and professional specialist paediatric care available.
On this day (24th November) fifteen years ago, good friends kept us company in Birmingham while our eight year-old Lucia went through her first liver transplant.  The operation took about six hours. Late in the evening we were eventually able to see her, well-sedated, in the Paediatric Intensive Care Unit.  Our relief, though still only partial, was palpable.
Meanwhile, somewhere else, a family was only just beginning their own bereavement.  In their darkest hour, in kindness to people they knew they would probably never meet, they had given Lucia another chance at life.
Over the next twelve and a half years, our family discovered an exemplary quality of care and friendship from the hospital staff, especially the medical, surgical, and nursing teams working through the Liver Unit and Intensive Care, the physios, nutritionists, psychologists, teachers and play therapists, the Chaplaincy team, admin, and many more.  A care and kindness that went well beyond the hospital walls.
It took us into the Transplant Games.  It gave us a Transplant family including other patients and their relatives that have proved to be solid company through all those years.
When Lucia moved from the direct care of Birmingham Children's Hospital to the adult equivalent, she wrote a letter of thanks to those who had shared in her care.
"…I will always remember the way I was treated with such respect, dignity and love and am forever thankful for the explanations I was given.  (Why do I have to be on this medicine?  What does this tube do?  Why should I have another transplant?)  No question too small and all explained to me in ways I could understand – everyone knew me so well, not just as a patient but as a person. 
Knowing I like to have all the information, knowing that I wanted to take responsibility for my own care and treatment plans, I wanted to know what was happening each step of the way and be in charge of my own body.
All of these things were so well understood and catered for by all the staff here.  Thank you.
I will always carry BCH in my heart and I will continue to take inspiration from you all.
Just Thank You, for Everything!…"
That gratitude, deepest and clearest in Lucia, became the norm for us all through our years with BCH and beyond, and the friendships formed remain as real to us today.  Although the years brought their share of fears and tears, and now include an always unfathomable sadness, they will forever be marked and held together with gratitude, steeped in kindness and caught in the wonder of Lucia's own life, of her continuing light and energy.
In this 160th year of the Hospital we will drop our donation into the BCH "bucket". Maybe you might do the same.  (Click on BCH Appeal)  Is it ever too much to say thank you again?