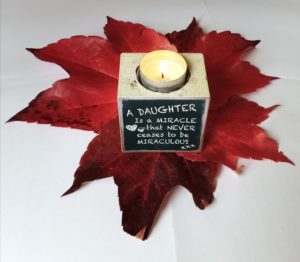 Four fallen leaves, and the light…
Today is the last day of this year's Organ Donation Week.  Thank you for your kindness in giving time, attention and thought to any of the various blogs and posts and images, window stickers, pink ribbons, pink tea shirts or pink buildings, school assemblies and workshops, and any of the other attempts to catch your eye.  Countless diverse ways by which people of all ages and experiences have tried to tell stories of some of the hardest and brightest moments of their lives.
It didn't take long, did it? Add up the week's blogs on this site – how many words?  (4086) How long might that have taken to read?  According to some internet wisdom, it might take an average of about 15 minutes.  You've probably queued longer than that for fish and chips, or for the loo on a night out. It might not even take that long to have a conversation with your family about your thoughts on organ donation (though you could give it much longer, of course), but those few precious minutes could lead to someone, maybe many more than one, being given a chance at a much longer lifetime of joy and gratitude.
For over forty years, since the first event in Portsmouth, in 1978, Transplant Sport has hosted a fantastic celebration of life, the British Transplant Games.  Every year, in different cities across the UK, people of all ages come together to meet old friends and make new ones, celebrating the life-transforming results of successful transplants.  But these are not normal times, and this year's Games were postponed again.  In these last two years, we have been invited instead to run or walk a distance of our choice in our own areas to honour all donors and their families.
As we left the house this morning, we carried a mixed bag of emotions.  Golden threads of gratitude and pride still shone bright in the mix.  Gratitude beyond words to four donors and their families for their selfless gifts, adding up to twelve and a half precious years for our youngest daughter and the immeasurable joy and love that allowed for each of us. Pride beyond compare at what she was able to make of those years, and her legacy that continues to catch us by surprise as it breaks the surface in new ways, new places.
We walked our circuit of about six and a half kilometres round the outskirts of our beautiful town, along the cliff edge with its gift of stunning early autumn sea views and down to a very special beach for a sit down.  And a soya latte.  Time to think, most thoughts left unspoken.  Time to be grateful to those who, when asked about organ donation, said yes, and changed our lives for ever.  Maybe this week might help prompt another "yes" somewhere and, in another moment of tragedy, add new threads of gold…