Organ donation laws vary across different countries in the United Kingdom. Wales was the first to move to an "opt out" system where, unless you have registered a different decision you will be considered to have no objection to organ donation.  England adopted the same system in May 2020 and Scotland intends the same in March 2021.  Northern Ireland is expected to begin a consultation process on the "opt out" system this autumn.  Whatever system is in place where you live, and whatever your decision, for donation to go ahead it would be discussed with your family and their support would be needed.  The aim of this week, and of these blogs, is to encourage those conversations between family and friends in easier moments so that, should the occasion arise, these hard decisions can be made with more strength, confidence and even pride in helping another person. There will always be kindness, as Nisa explains…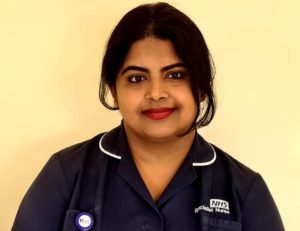 My role as a 'Specialist Nurse for Organ donation' (SNOD) is one of the most privileged and rewarding roles in my nursing career and is unique from all the others in many ways.
As I share the fundamental aspects of this multifaceted role, I would like to remember and thank beautiful Lucia and her loving family for giving myself and my colleagues in the N Ireland Organ Donation Services Team the opportunity to be a part of this amazing campaign for organ donation. Although, I was not fortunate to meet Lucia in life, I know the great enthusiasm and positivity she carried throughout her life as an ambassador for organ donation continues beyond human finitude. Lucia's life is the motivation for myself and others in the organ donation community, giving positive meaning to our work. It helps us continue with passion, the dedication and quest to help to save and improve the lives of the people on the transplant list, many of whom we may never know.
All organ donors are real-life heroes, who, through the beautiful gift of organ donation have not only saved and transformed the lives of many seriously ill patients but their families and friends too. Donor families, be it a parent, spouse, child or sibling who have experienced an unimaginable loss, who find the courage and strength to fulfil their loved one's organ donation wishes, are real heroes too. They have been able to look beyond their own personal loss and tragedy to help others in their time of need.
The real essence of my role as a SNOD is to help families to understand the enormity of the gift of life ,to support them in honouring any known decisions of their loved one or to help them to make decisions about organ donation where they didn't know their loved ones wishes. I and my colleagues work in intensive care as part of the critical care team of nurses and doctors, collaborating closely with them when it becomes clear that a patient is moving towards the end of their life. We receive bespoke training to support the development of our knowledge and skills in this specialist area to allow us to effectively meet the needs of patients and families at this time.
We often meet families for the first time during the most difficult time of their lives- the loss of their cherished loved one. All families are unique and we strive to get to know them, in what can be a very short period of time, to gauge how we can provide them with the best possible care and support for their individual needs. Many are often physically and emotionally drained because of the devastating, life changing reality they are faced with. Some call us 'best friends' as we empathetically acknowledge their feelings, hold their hands, sit and listen as they recount memories they want to share about their loved ones. Others want to be quiet and alone while they are grieving, and we give them the time and space they need.
We aim to answer all questions they may have about end of life care, the organ donation process, funeral and bereavement arrangements. In providing them with all the information we empower them to make an informed decision regarding organ donation, which will be right for them and their loved one. Where patients have shared their decision with their loved ones in life this can make this conversation much easier for families.
That is why we would encourage everyone to take time to make a decision about donation, to join the register and share this with their loved ones.
When that decision is made our care to the patient and family continues over the next hours as we coordinate and plan the offering of organs to the most appropriate recipients, the attendance of the surgical teams who perform the retrieval surgery and the final dispatch of the precious organs to their destination where the recipient is often being prepared for their life saving operation. During these hours many families remain at the bedside and receive comfort from having that extra time. We offer keepsakes in the form of hand-prints and hair locks. We accompany the patient to theatre for the retrieval operation, remaining with them throughout and are often asked by families to give a 'special message' quietly in their loved ones' ears at the very end of the donation process. This can be heart-breaking, relaying this very intimate message or gesture, but every SNOD supports the final wishes of the families with the greatest of respect.
This process involves teamwork both locally and from across the UK. Our intensive care colleagues, theatre staff, laboratory personnel, surgical teams, transport personnel and recipient coordinators all strive to provide the best possible outcome for our donors and recipients.
There are many emotional and physical challenges that every SNOD faces in their 18-21 hours of on call period during the organ donation pathway. No two days are ever the same. But I am extremely proud of being a SNOD and always see the light through the darkness, enabling love and life to live on in others!!
Nisa Francis, Specialist Nurse, N Ireland Organ Donation Team