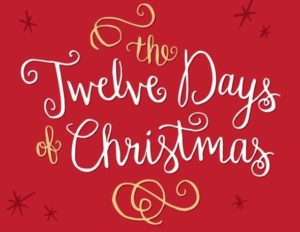 So, it's that time of year again! Magical and sparkly and glittery and all that wonderful stuff. Can you tell I enjoy Christmas just a little bit? There's just something so so special about the twinkling fairy lights, the excitement, the giving of gifts and the anticipation of a New Year beginning.
This year I will once again be doing a blog each day of Christmas – since last year's 12 Days of Christmas seemed to be so well received! (Don't worry – I will also be revising for my mocks just to put any of my teachers' minds at ease!)
There will be a few quite exciting announcements made during the 12 Days of Christmas blogs – so please take a few minutes each day to have a quick read and share them with someone else you think might enjoy reading them.
All that's left to say today is that I hope you've all had a very merry Christmas Day filled with love and lovely gifts.
Just take a moment to remember those who are awaiting the greatest gift. Take a moment to discuss with your loved ones, whether you would give them the most magical, most incredible gift anyone could give – the gift of life.
So, I will be back tomorrow with day 2, but for now….
You sign up, I'm signing off…
Lucia x