On the sixth day of Christmas my true love gave to me… Six Geese a-laying.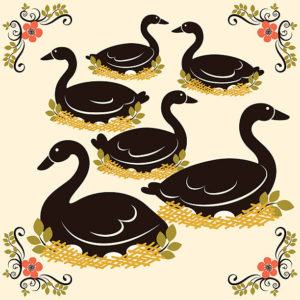 Oh dear.  This song gets more complicated as it goes on.  Don't take it literally.  All these birds flapping about everywhere.  Very messy.  Partridges, hens, doves, now geese and there's a load of swans still to come.  To say nothing of all the leaping lords and ladies and suchlike.  They're not simple, these 12 days of gifts.
Nor is that gift of an organ.  Not always.  For many it does all go beautifully.  A precious gift received and welcomed with tears of joy and gratitude, and, taking all the correct medication, the anti-rejection, immunosuppressants and any others, attending the clinic for check-ups, and generally keeping fit and healthy, there's no looking back, except for that constant thank you.
For others it's not so simple.  Some are on "the scenic route", the snakes and ladders game.  For all the correct medication, care, and attention, the mystery continues, and a transplant is not simply a cure.  And though the days and the years can still be shining with full and fulfilled lives, more than a share of exciting opportunities, places to go, things to do and people to meet you may never have dreamed of, there's always something else to shift the plans, reminders that all is not "fixed" but "ongoing".  There may be unwanted consequences, with any number or degree of twists and turns.  Setbacks.  Sometimes even a repeat transplant.  Sometimes more than one.
So, does that mean the first transplant failed?  "No, it got me to my second.  Without that first one there would have been no chance of a second, or a third… They didn't fail.  Like a couple of branches that helped break my fall until I could land more safely." And that next landing may be the safest of all, with many good years to come.
For more than one we know and love it has meant a shorter life than any world of hoping could bring.   Yet sparkling brighter than any of those complexities, there are countless stored treasures that are not diminished by ending way too soon, however painful that will always be. Every good day in that store shines brighter.  Every extra shared experience that might not have been, every extra holiday, every extra adventure, every extra birthday, every extra Christmas, every breath, every smile, every laugh, every dance, every hug, every kiss, every second, is a gift greater than anything bought and wrapped for Christmas.  All those apparently small things, insignificant moments, that were always really bigger and more significant than anything else, more than anyone could know.
Grief, when it becomes part of the transplant journey, can threaten to make any new Christmas hollow and lost.  But those that were shared will be treasured even more.  And the gifts that made them possible will never tarnish.
Having that conversation, the kindness of a yes in the unknown grief of strangers, was, and will always be, worth every second… Do you have a second for that…?