On the second day of Christmas my true love gave to me… Two turtle doves (and another partridge in a pear tree?)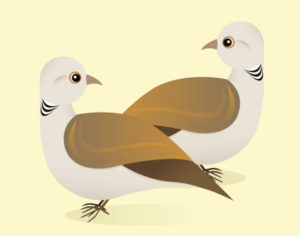 This song is hilarious if you let yourself imagine it happening literally.  Imagine all this lot turning up at your door over the next week and a half.  Even more entertaining if they were delivered to a wrong address…or addresses – the couriers do get twelve goes at this! Wonder where you would put all the gifts in the song? And how you'd look after them all? Especially if you don't just get the gift of the day but, as some people imagine the song to suggest, another lot of everything that came before it, again.  Twelve partridges in twelve pear trees, even over twelve days, would be a handful, even without all the rest.
Imagine if it happened to you – how would you put that on social media for your friends? "You'll never guess what I got for Christmas!"  It would certainly give you bragging rights. "You got a book, and a voucher for an hour in a spa for Christmas? Well, let me tell you what the courier brought to my door! On the first day… "
Or complete astonishment at what came your way. " You'll never believe what I was given!"  Shocked?  Flabbergasted?  It could all be a bit (a lot) overwhelming.   If you could find words enough to tell us about it you'd be sure there were people listening.
It's rare to come across a transplant recipient who doesn't mention their donor, or the donor's family, or their incredibly generous gift in some way or other.  And it's certainly not bragging.  The true cost of the gift and knowing what it's like for too many others who are still waiting is too much for that.  It's thanks. And astonishment.  And wonder. And pride at such kindness and generosity. And sometimes it's all a bit (a lot) overwhelming.  And that's well worth making a song and dance about.