And the surgeon said, "I'm just a plumber: I just cut and join."  Could that qualify as one of the greatest understatements of all time?  It is characteristic of this good man, Khalid Sharif, that, when invited to contribute a blog on organ donation from a surgeon's perspective, he chose to write, not about the professional skills and details of his surgical, life-saving procedures, but about his patient, and the special relationships he and his team contribute to the complexities of the healing process.  Skill there is in abundance.  Hours committed above and beyond any ordinary working day.  Or night. And after the most concentrated and demanding of operations, time given to the family to bring a personal report.  Beyond the time spent in the company of his patients and their families, there are many other professional responsibilities and commitments outside and far from the wards of Birmingham Children's Hospital.  But always a readiness to be called back to the priority time in the theatre, holding the lives of precious children in his hands…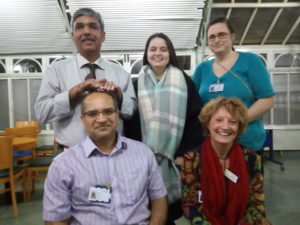 (L to R: Back row: Mr Khalid Sharif, Consultant Hepatobiliary and Transplant Surgeon, Lucia Quinney Mee BEM, Philippa Lewis, Transitional Youth Worker, Front row: Dr Girish Gupte , Consultant Paediatric Hepatologist, Dr Jacqueline Blyth, Consultant Clinical Psychologist)
Way back in 2007, an 8-year-old little girl was transferred to our unit for the management of her sudden onset of Liver Disease. Over the following years it was our privilege to get to know this little girl and watch her grow up to be an awe-inspiring young lady.
It became evident very quickly, during her investigations and workup, that she would require a new liver.  I still remember trying to explain the surgical management plan for her disease; she was quite sick but even at that point it was clear to see that this little girl had spirit and determination. She wanted to know the details and this never changed throughout the time we knew Lucia.  She was in urgent need of a transplant but it was also becoming evident her disease, unfortunately, had the risk of recurrence in any new liver graft with the possibility of needing more than one transplant.  She was shy when asking questions and at times she looked at me with her deeply jaundiced eyes.  Her answers to my queries were always a "Mm hmm". I had to clarify if "Mm hmm" was "Yes" or "Mm hmm" was  "No".  This style and our relationship never changed for the rest of her life.  I gather whenever this was repeated it brought a smile or more from Lucia.
A few days after listing for liver transplant she received the precious gift of a liver graft.  The transplant procedure went well. However, her road to recovery had a few bumps and twists. She always showed a positive attitude and complied with the instructions including doing physiotherapy and taking her medicines, learning quickly alongside her family about life after transplant. She made a good recovery and was soon home to her beloved beach and home. Her energy levels returned, and she gathered energy, giving energy to those around her to.
Lucia was lucky to have beside her during her transplant journey her parents and sister, always in the "cheer-leading position", encouraging and supportive. They never complained, always had a positive attitude and at times they supported the whole Multi-disciplinary team.
Unfortunately, the disease recurred in her graft after a short while and she was again in the need of re-transplant.  Despite knowing the surgical challenge of re-transplant, including the risk of losing her, the team went ahead with re-transplantation.
In 2015 we faced further challenges and Lucia required a 3rd lifesaving transplant. By this point she was a young lady with opinions and definite views about her treatment options. After much discussion, information sharing, debates and chat Lucia was placed on the transplant list once more. Again her parents and sister were by her side, discussing the pros and cons of living related transplant. Lucia was making her views known and ensuring she was listened to. We learned a lot as a team from just listening to this now young lady.
In the eleven years we looked after Lucia she had three transplants, each with its own surgical challenges.
Lucia, however, made sure that every moment counted when she was well. She enjoyed singing and dancing on late nights out and sleep-overs with her friends.  Taking part each summer in the UK Transplant Games first for the Children's Hospital and then for the Northern Ireland team. She was also a member of the GB & NI swimming team at the World Transplant Games.
Lucia was passionate about raising awareness around organ donation. As a team we were so proud when she was awarded the British Empire Medal for raising awareness about organ donation.
In 2018, Birmingham hosted the UK Transplant Games and Lucia was one of the children's hospital team managers, helping to organise the team, making sure competitors were in the right place at the right time and ensure the event ran smoothly.  Lucia supported and encouraged the children to participate, making sure that a lot of fun was had along the way.  Once again Birmingham Children's Hospital team won many medals and the trophy for best children's team and best liver team. I went along to the event; she was like a butterfly, always active and inspiring with a smile on her face.
This was all possible due to the transplants she received, and she was profoundly grateful to her donors and their families.  She always remembered to thank and credit them for her achievements. She encouraged everyone to "have the conversation", she promoted organ donation at every opportunity.
I don't remember how I started calling her "Quinney Mee" after her first transplant, but she always used to reply to me with a smile when I called her with this name, even when she was really sick. She always wanted to take responsibility for her care and treatment plan, hence wanted to know all the details.
When she reached 18, we had to make the hard decision of transferring her care to the adult team as she could no longer be categorised as a child even though, for us, she was still "Quinney Mee". She visited the hospital to say good-bye and wrote personalised letters to every team who was involved in the care.  She regarded the Children's Hospital as her second home and will always be part of our "BCH family".
It was the generous gift of organs which allowed us as a team to witness this little girl grown up and become a young lady, to have a life full of activities, lots of friends and make a huge contribution and difference to society on her incredible life journey.
More importantly it gave Lucia and her family over a decade of memories of family time which they enjoyed together.
I will always remember my "Quinney Mee".
Khalid Sharif