In the first of our guest blogs this week, Ann, an artist and good friend who worked with Lucia on creating the logo for Live Loudly Donate Proudly invites us into their conversations in colour…
"Bright colours" Lucia said immediately! We'd just begun our chat about how she envisaged the logo for 'Live Loudly Donate Proudly'.
Lucia's affinity with the local landscape, and mission to live vibrantly within it, brought our conversation quickly to what the late summer was offering, right there, right then, right around us! We soon found ourselves talking over photos we'd just taken and sliding the colour picker about in photoshop plucking out colours palettes, directly from local landscapes.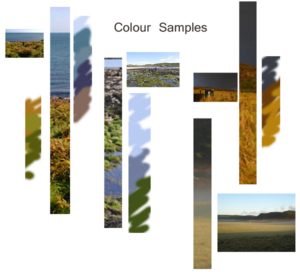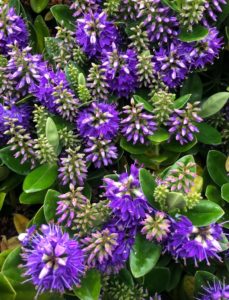 Lucia's penchant for purple drew her instantly to the hillsides of heather in bloom. Whin (gorse) yellows, and the greens of a long summer, following suit. Meanwhile, I was enjoying Lucia getting a kick out of the fact that purple and yellow were 'complementary colours' within the colour wheel!
Our 'logo' conversations continued and Lucia continued to teach me. We deliberated over forms and shapes to symbolise what Lucia could express so precisely in words. Eventually, we managed to hone it all down! A pair of leaf shapes, blue and yellow, would be representative of the precious acts of giving and receiving. When the colours blue and yellow are mixed green results. So, at the very core, where the leaves met, new green growth emerges – something truly miraculous created between them, between these extraordinary acts of receiving and giving. The outer circle protectively encloses all within. Its own form, having no beginning and no end, representing the ongoing, the eternal, something unceasing.
It was just over a year later on her Gala dinner night, 8th September 2016, when the penny dropped even further and I was completely blown away listening to Lucia speak, so honestly, so eloquently, to a huge crowd of people, of her personal experiences as an organ recipient. The entire room went silent and remained so, for her every word. Lucia's openness and wisdom deeply affected very many people in the room that night and in those moments I began to understand why the extraordinary acts of giving and receiving around organ donation are themselves, in the truest sense, fully complementary.
What a privilege Lucia, to have had these conversations with you. I am blessed in this – thank you.
And let all of us keep on talking proudly about organ donation and help ourselves understand more and more of these acts of giving and receiving.
Ann.