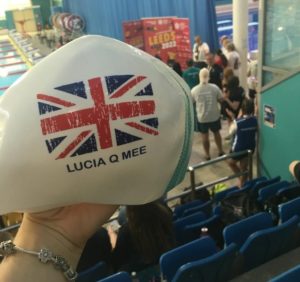 It was always going to be emotional.  It always is.  The last (42nd) UK Transplant Games had been celebrated in Newport, South Wales, in July 2019.  Since then the foundations rocked.  For too many they didn't just rock and fall back into place when lockdowns ended and the masks started to come off.  Too much didn't return to normal, it was  changed.  For some it was changed beyond measure.
The 43rd Games were in Leeds, in July this year.  Over 750 athletes across 25 different sporting events.  More than 1,000 supporters and spectators. The first time together for almost three years.
On the Saturday, before the afternoon's swimming races, everyone at the pool in the John Charles Centre for Sport stood for two minutes of solid applause, remembering friends who have died since the last time we were together.  Those who were awaiting transplants and didn't make it.  Donors who gave life to others.  And those who should have been swimming with us but leave us swimming in tears in their absence.
It was always going to be emotional.
But it was the right place to be, and we knew it from the moments we each arrived and were immediately wrapped in kindness.  This Games family is a family that knows the details, the realities that bring us all together.  A family that knows too well the private mental struggles behind the public smiles and the physical effort.  A family that has short-hand code for it all.  We may rarely have words to make it better, but we have reason to listen and empathise, and tissues to keep us going.
Once the competitions start then the tears of the hurting and fearful are lapped by tears of joy and wonder as transplant recipients, now athletes, achieve personal best records, run faster, throw further, play harder, climb onto the medal-winners' podium, or just doggedly cross the finishing line and show themselves as the heroes and champions they are.
One of Lucia's good swimming friends asked if she may wear Lucia's GB and NI Transplant Team cap for her own races.  Three other good friends in turn did the same, in quiet honour of their friend who had died since they last swam with each other.  Each one left the pool with at least one gold medal, and left us with kindness to treasure.
Too soon the T-shirts were swapped for dressed-up-smart outfits and we were off to the Events Centre at Leeds Royal Armouries for the Gala Dinner night, with its trophies, awards, and cups for teams and their supporters who had filled the weekend with courage and friendship.  As we strained to talk with each other over the excitement, and the energy and the music, conscious always of other team members missing now from celebrations they have shared  so many times before, small luminous glow sticks were handed out and wrapped around wrists, honouring the donors who in their darkest hour had made this brightness possible.
It was always going to be emotional.  It always is.  But it's worth it.  And it all starts with a conversation…